---
Profile
Mark A. DeCou has been working with wood and natural materials as long as he remembers. Raised in Hutchinson, KS, Mark's artistic training was encouraged and influenced by his father, a wood-shop teacher and master builder of hand-made furniture and clocks, and his mother who worked with many different crafts, including sewing, wood carving and ceramics. Mark spent much of his summers helping his Grandfather farm wheat and feed cattle in rural Kansas, where he learned to love the openness and solitude of country living, observing wildlife, problem solving and fixing broken equipment.
Early in Mark's childhood, his father built him a real workbench for his bedroom and furnished plenty of tools to work with, allowing Mark total freedom to build and create right in his bedroom. Mark also enjoyed the free-use of his father's well furnished wood shop and mechanic shop where his father worked in wood, and restoring cars.
This early development and training in woodworking, furniture, hand tools, car restoration, and fixing things lead Mark to pursue a degree in Mechanical Engineering at Kansas State University (1987). After graduation, Mark worked as a project engineer for Exxon at an oil refinery, then with Koch Industries in industrial construction and sales. These first jobs provided excellent training in project management, quality control, safety, marketing, and sales, but failed to provide the creative-artistic outlets that Mark was dreaming of.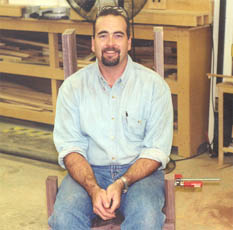 With too many years of dreaming and planning and after selling two Harley motorcycles, a new 4x4 pickup, and an old Corvette, to raise capital and eliminate debt, and paying off their home by cashing out their corporate retirement accounts, Mark struck out on his own in 1997 determined to pursue a life creating and selling furniture and fine-art. In the summer of 2001, Mark and Shelli bought a farmhouse in rural Chase County, where Mark has set up his studio to build and sell his work, marketing through word-of-mouth, art and craft shows, and now the world-wide-web.
Mark enjoys building Cabin and Western style furniture and furnishings, using hard woods with carved decorations, and natural materials such as deer and elk antler, steer horns, limestone, mother-of-pearl, abalone, river shell, and many other natural materials found among the hills and creeks in their area. These works include scrimshaw, powder horns, peace pipes, lights, tables, chairs, mirrors, and other furniture items.

"If a man works with his hands, he's a laborer. If a man works with his hands & his head, he's a craftsman. But, if a man works with hands, his head, and his heart, he's an artist." ~ St. Francis of Assisi